Using my|CalPERS
my|CalPERS is your gateway to conducting business electronically with CalPERS. Use this secure website to access real-time details about your CalPERS accounts.
To obtain an account, go to my|CalPERS and follow the steps to register. If your account ever becomes locked, call us at 888 CalPERS (or 888-225-7377).
Judges: Not all self-service features in my|CalPERS are available for members of the Judges' Retirement Systems (JRS). For assistance with your retirement questions, call JRS at (916) 795-3688.
What Can my|CalPERS Do for Me?
You can use my|CalPERS to access health information plan for retirement, and conduct business with CalPERS online.
my|CalPERS allows you to receive health information in a confidential and secure method. When enrolled in CalPERS health coverage, you have 24/7 access to:
Access current and historical Health Plan Statements.
Confirm current health coverage information in your Health Plan Summary.
Find what health plans are available in your area.
Research monthly premiums of medical plans with the Find a Medical Plan tool.
Verify which dependents are covered on your current health plan.
View Open Enrollment information updates.
Retirees can also:
Make health plan changes during Open Enrollment.
Change health dependents year-round.
my|CalPERS provides resources to help with your plan for retirement. From your account, you can:
Apply for service retirement online, or save and print the information.
Download Annual Member Statements.
Estimate future retirement benefits and save them to view at a later date.
Register for online and instructor-led classes.
Schedule appointments at one of our eight Regional Offices throughout the state.
With your my|CalPERS account, it's quick and convenient to do business with CalPERS. You can log in to:
Order and download publications.
Select mailing preferences for your statements and newsletters.
Send and receive secure messages.
Transmit account information to third parties, such as banks.
View your contact information.
Retirees can also:
Modify payment methods.
Update contact information.
Update federal or California state tax withholding amounts.
View tax and benefit statements.
Your CalPERS ID
Each CalPERS member is assigned a unique 10-digit identifier, which we refer to as the CalPERS Identification Number (CalPERS ID).
You can use your CalPERS ID as an alternative to your Social Security number when conducting any CalPERS business.
Your CalPERS ID will always remain the same, even if you retire or go to work for another employer.
Ways to find your CalPERS ID include:
Log in to my|CalPERS, select the Profile tab and then select Personal Information.
Refer to any correspondence from CalPERS, such as your Annual Member Statement.
Speak with us by calling 888 CalPERS (or 888-225-7377) or TTY (877) 249-7442.
Employer Marketing Kit
Use the Employer Marketing Kit to educate your employees on the features and benefits of using my|CalPERS.
Send this email content with information about my|CalPERS features to your employees.
Find Out What my|CalPERS Can Do For You
CalPERS has made it easier than ever for you to plan for retirement, manage your accounts, and conduct business with them all in a safe, secure, and reliable environment using my|CalPERS.
Do you need help planning for retirement? Use my|CalPERS to schedule a one-on-one appointment with a representative at your local CalPERS Regional Office.
Want to learn more about your benefits? Log in to register for our free online and instructor-led classes.
Want to change your mailing preferences? Use my|CalPERS to select whether you would like to view statements and newsletters online or receive them by U.S. mail.
Explore what my|CalPERS can do for you. Visit the CalPERS website or log in to my|CalPERS.
Promote my|CalPERS on Your Website and Intranet
Select a CalPERS-approved banner ad from below.
Save and place the banner ad on your web page. Do not alter the image in any way.

If you use the my|CalPERS banner ad, embed a hyperlink on the banner ad image to my|CalPERS. On the hyperlink, include the alt tag "Log in to my|CalPERS."
If you select one of the "What can my|CalPERS do for you?" banner ads, embed a hyperlink on the banner ad image to Using my|CalPERS. On the hyperlink, include the alt tag "What can my|CalPERS do for you?"

If you use the image on your public website, contact us with a link to the page so we can review it.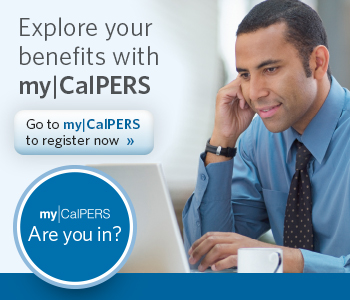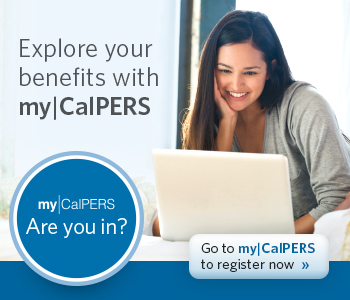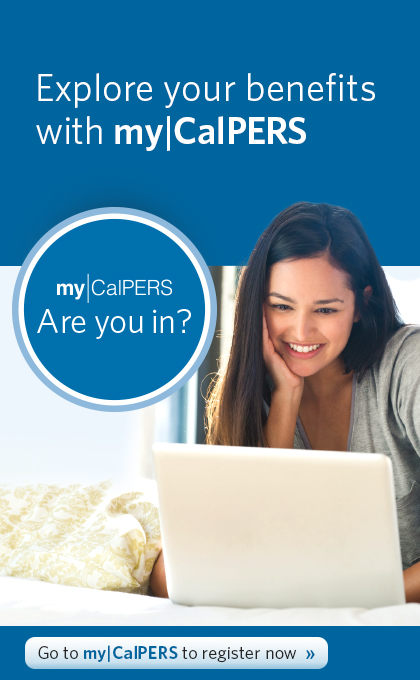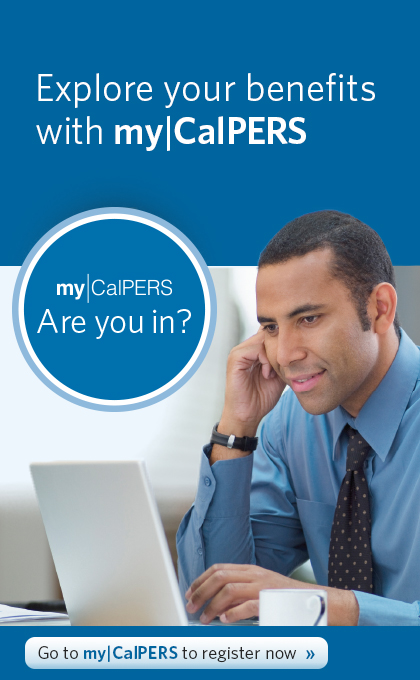 Contact Us
If you have questions or require additional information on our banner ad usage requirements, contact CalPERS Office of Public Affairs, Monday through Friday, 8:00 a.m. to 5:00 p.m. We're closed on state and federal holidays.
CalPERS Office of Public Affairs
Lincoln Plaza North
400 Q Street, Room 4340
Sacramento, CA 95811
(916) 795-3991
Fax (916) 795-3507
Videos
Resources
Forms & Publications