Keynote Speaker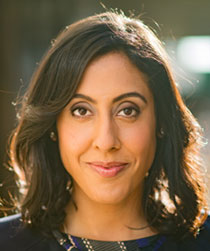 Join us for award-winning keynote speaker, bestselling author, and globally recognized leadership expert, Erica Dhawan, on Monday, October 2, 2023, at the CalPERS Educational Forum.
Let's Innovate Faster & Further, Together
"What is the #1 reason organizations fail to innovate?" According to this year's CalPERS Educational Forum keynote speaker Erica Dhawan, it's a lack of effective collaboration. Named a top 20 leading management expert by Global Gurus, Erica's mission is to help organizations unlock 21st century teamwork to drive exponential growth.
From her childhood passion for forging connections to teaching courses in leadership and collaboration at Harvard and MIT, Erica's journey led to coaching thousands of leaders across a range of industries, companies, and countries about 21st century collaboration skills. Her book, "Get Big Things Done," soared as a best-seller.
She Owes Her Success to a Superpower that We All Share: Connectional Intelligence™
What's connectional intelligence? We all have the power to drive innovation. We just need to get past the roadblocks we've created: endless meetings and emails, constant cross-team dysfunction, resource-wasting duplication, and a lack of real, meaningful inclusion. How do we do that? Our current collaboration skills aren't working to unlock better value. Connectional Intelligence is turning people into super connectors who accelerate innovation, break down silos, and foster organizational success.
Ready to spark new ideas, drive positive change, and make a lasting impact within your agency? Erica will share the secrets to:
Navigating communication overload to create authentic digital and in-person relationships.
Breaking down silos and keeping teams aligned, accountable, and motivated beyond in-person meetings.
Fostering loyalty, respect, collaboration, and innovation for all stakeholder networks across distances.
CalPERS Educational Forum