Event Speakers
Keynotes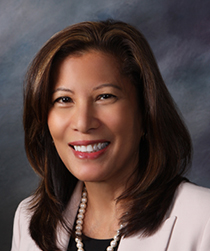 Justice Tani Cantil-Sakauye
Chief Justice of California
Chief Justice Tani G. Cantil-Sakauye is the 28th Chief Justice of California. She was the first person of color and the second woman to serve as the state's chief justice. She has emerged as one of the country's leading advocates for equal access to justice, civic education, and reform of court funding models and procedures that unfairly impact the poor.
Kate Purmal
CEO, Elevate Group
Kate is a former CEO and Technology Executive, Independent Board Director, Business Advisor and Executive Coach. She is also a Senior Industry Research Fellow at Georgetown University Women's Leadership Institute and a lecturer at University of Michigan Ross School of Business. She is the author of two books: COMPOSURE: The Art of Executive Presence and THE MOONSHOT EFFECT: Disrupting Business as Usual.
Panelists and Moderators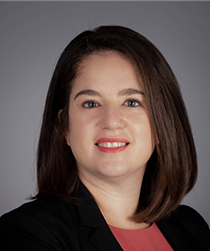 Jessica Altman
Executive Director, Covered California
Jessica Altman, sworn in as executive director on March 4, oversees the planning, development, administration, and evaluation of the organization's efforts to increase the number of insured Californians, improve health care quality, lower costs, and reduce health disparities through an innovative, competitive marketplace.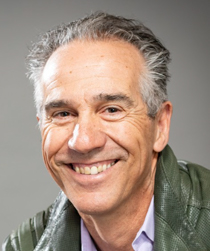 Raymond J. Arata
Founder and CEO, Better Man Conference
Ray Arata, author of SHOWING UP; How Men Can Become Effective Allies in the Workplace, is a speaker, master facilitator, coach, and most of all, an ally in training. As an aspiring ally, Ray's personal mission involves going into the corporate world and getting male executives to stand up and stand strong when it comes to including and advancing women and minorities in the workplace.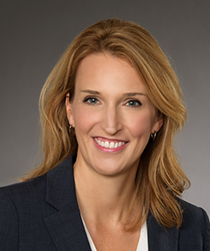 Jennifer Barrera
President and Chief Executive Officer,
California Chamber of Commerce
Jennifer Barrera took over the chief executive officer position in October 2021 after serving as the executive vice president of policy, where she oversaw the development and implementation of policy and strategy.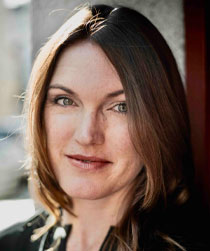 Megan Jones Bell, PsyD.
Clinical Director of Consumer and Mental Health, Google
Dr. Megan Jones Bell is the clinical director of consumer and mental health at Google where she gets to think about how to improve the health of billions of people. She was formerly chief strategy and science officer at Headspace and helped guide the meditation app into a comprehensive digital mental health platform. Dr. Bell founded one of the first digital mental health start-ups, Lantern, where she pioneered blended mental health interventions leveraging software and coaching.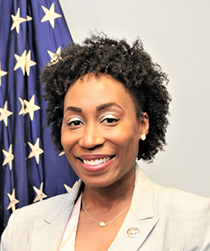 Lasha Boyden
U.S. Marshal, U.S. Marshals Service
Lasha R. Boyden is the Acting U.S. Marshal for the Eastern District of California. She was designated by U.S. Attorney General William P. Barr on February 3, 2020, and re-designated by U.S. Attorney General Merrick B. Garland on March 3, 2022. U.S. Marshal Boyden is the first African American to serve as the U.S. Marshal for the Eastern District of California.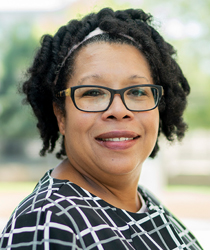 Marlene Timberlake D'Adamo
Chief Diversity, Equity, and Inclusion Officer
Marlene Timberlake D'Adamo was named CalPERS' first Chief Diversity, Equity, and Inclusion (DEI) Officer in June 2021. She works across the organization and the Investment Office to foster a culture of equality, respect, and inclusiveness. Marlene guides the CalPERS DEI framework and helps identify emerging DEI issues and opportunities that may impact the CalPERS portfolio.
Marcie Frost
Chief Executive Officer, CalPERS
Marcie Frost joined CalPERS as chief executive officer in October 2016. She is the ninth CEO and second woman to head America's largest pension fund. As CEO, Frost oversees an annual budget of $1.8 billion, an experienced team of 2,800 professionals, and three lines of business for the fund: pensions, health benefits, and investments.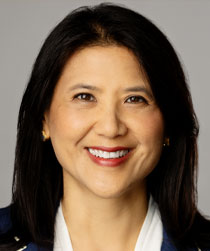 Janet A. Liang
Group President and COO, Care Delivery, Kaiser Permanente
As executive vice president, group president and chief operating officer, care delivery, for Kaiser Foundation Health Plan, Inc. and Hospitals, Janet Liang is accountable for Kaiser Permanente's California markets serving over 9.5 million members. In addition, she directs strategy and innovation in care delivery operations, including continuum of care services, Medicare, our more than 500-store pharmacy organization, and 36 hospitals.
Julia Logan, MD, MPH
Chief Clinical Director, CalPERS
Dr. Julia Logan is Chief Clinical Director at the California Public Employees' Retirement System. Dr. Logan joined CalPERS in May 2019 and leads the clinical policy program, clinical quality improvement and transformation efforts, and health equity program. She is a practicing physician, volunteering at a local community clinic to treat patients with all types of medical conditions.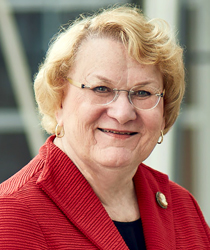 Lisa Middleton
Mayor of Palm Springs, CA
Lisa Middleton is serving her first appointment on the CalPERS Board of Administration. She was appointed by Gov. Gavin Newsom in May 2019. As mayor of Palm Springs, she is the first openly transgender person elected as mayor in the State of California.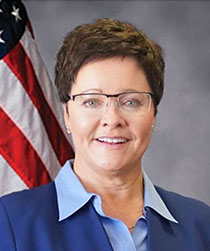 Lori Moore-Merrell, DrPH, MPH
U.S. Fire Administrator
Dr. Lori Moore-Merrell was appointed by President Joseph Biden as the U.S. Fire Administrator on October 25, 2021. She began her fire service career in 1987 as a fire department paramedic in the City of Memphis Fire Department, Memphis Tennessee. As a Doctor of Public Health and data scientist, Lori is an award-winning international speaker, presenter, and author.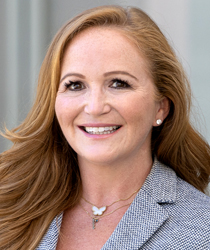 Nicole Musicco
Chief Investment Officer, CalPERS
Nicole Musicco was named chief investment officer in February 2022. She oversees an investment office of nearly 400 employees and manages investment portfolios of roughly $500 billion, including the Public Employees' Retirement Fund and affiliate funds.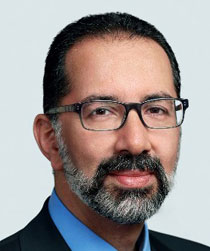 Cyrus Taraporevala
President and Chief Executive Officer, State Street Global Advisors
Cyrus Taraporevala is president and chief executive officer of State Street Global Advisors, the investment management arm of State Street Corporation. He is a founding member of the New York Stock Exchange Board Advisory Council which proactively addresses the critical need for inclusive leadership by connecting diverse candidates with companies seeking new directors.
Julie Tatge
Executive Editor, Pensions & Investments
Julie Tatge is the executive editor of Pensions & Investments, the international newspaper of money management. Previously, Tatge was business editor at the Chicago Tribune, directing daily and Sunday business news coverage and department operations. Julie brings extensive experience to P&I in digital and print journalism and is not only an experienced newsroom journalist but also a skilled manager of editorial resources.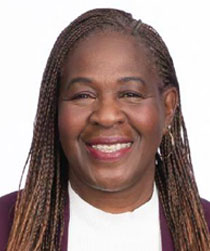 Carin Taylor
Chief Diversity Officer, Workday
Carin Taylor is chief diversity officer at Workday and has global responsibility for the development and execution of Workday's inclusion and diversity strategy. Prior to joining Workday, Carin served as the head of diversity, inclusion, and innovation at Genentech where she was responsible for strategic initiatives including executive coaching, building and leading highly effective teams, and increasing employee engagement.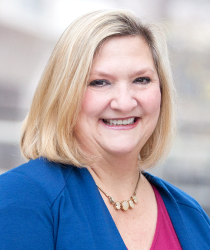 Theresa Taylor
Board President, CalPERS
Theresa Taylor is serving her second term on the CalPERS Board of Administration and her first one-year term as president of the board. A principal compliance representative at the Franchise Tax Board in Sacramento, she has worked for the state for 26 years and brings a wealth of financial experience to her role.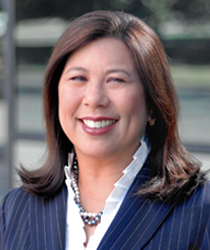 Betty Yee
California State Controller, State Controller's Office
State Controller Betty T. Yee was elected in November 2014, following two terms of service on the California Board of Equalization. As Controller, she continues to serve the Board as its fifth voting member. Reelected for a second term as Controller in 2018, Ms. Yee is only the tenth woman in California history to be elected to statewide office.
Video Appearances
Love Baladjay-Fretland, Enterprise Governance & Ethics Manager, CalPERS
Adrianna Brooks, Diversity & Inclusion Practitioner, CalPERS
Chiquita Brooks-LaSure, Administrator, Centers for Medicare and Medicaid Services
Aris Hatch, Managing Director, GCM Grosvenor
W. Brad Johnson, PhD, Author, Athena Rising: How and Why Men Should Mentor Women
June Kim, Director, Global Equity, CalSTRS
Geeta Kumar, Team Leader, Diversity Outreach Program, CalPERS
Josh Levs, Journalist
Cassandra Lichnock, Chief Executive Officer, CalSTRS
Fiona Ma, California State Treasurer
Kate Purmal, Board Director, Business Advisor, Co-Author, The Moon Shot Effect, Disrupting Business as Usual
Lady Lynn Forrester de Rothschild, Chief Executive Officer, E.L. Rothschild
Katie Selenski, Executive Director, CalSavers
Morgan Skillman, Volunteer and Workforce Manager, Tough Mudder Inc
David Smith, PhD, Author, Athena Rising: How and Why Men Should Mentor Women
Marlene Timberlake D'Adamo, Chief Diversity, Equity & Inclusion Officer, CalPERS
Betty Yee, California State Controller
Pathways for Women Conference