Simiso Nzima, CFA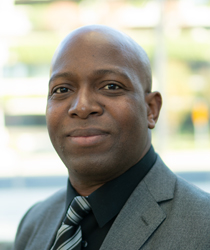 Investment Director & Head of Corporate Governance, Global Equity
Simiso Nzima was named head of Corporate Governance in September 2016. He brought more than 10 years of practical investment management experience to his role managing the program, which integrates corporate governance activities into our investment and portfolio management process. His efforts ensure that CalPERS' proxy voting and corporate engagements are grounded in economics and fiduciary duty, and lead to long-term sustainable investment returns.
Simiso has held other roles with the Investment Office, including more than eight years managing the $8 billion internally managed emerging markets equity book using index-oriented and alternative beta strategies and $10 billion of global equity synthetic exposure. From 2005 to 2008, he was a corporate governance analyst.
Before coming to the United States in 2003, Simiso was a fundamental equity research analyst and portfolio manager for over three years in his native Zimbabwe.
He was elected to the board of the Council of Institutional Investors in March 2019.
Simiso holds an MBA from UC Berkeley's Haas School of Business, a Bachelor of Commerce Honors degree in finance from the National University of Science and Technology, Zimbabwe, and the CFA designation.