Board Elections
The CalPERS Board of Administration consists of 13 members who are elected, appointed, or hold office ex officio for four-year terms. Their decisions affect all active and retired members.
2018 CalPERS Board of Administration Public Agency Member Election
An election is being held to fill the public agency representative seat on the CalPERS Board of Administration. The term of the incumbent, Priya Mathur will expire on January 15, 2019. The new term of office will begin on January 16, 2019, and run through January 15, 2023.
The election for the state and school board member representative seats will not be conducted because the incumbents, Theresa Taylor (state) and Rob Feckner (school) were unopposed. Taylor and Feckner will serve another four-year term of office beginning January 16, 2019, and continuing through January 15, 2023.
Public agency members – your 2018 Public Agency Member Board Election ballot package will be mailed August 31, and your voted ballot must be received by October 1 to be counted. This is your opportunity to help select the candidate who will best represent your views on the board for the next four years.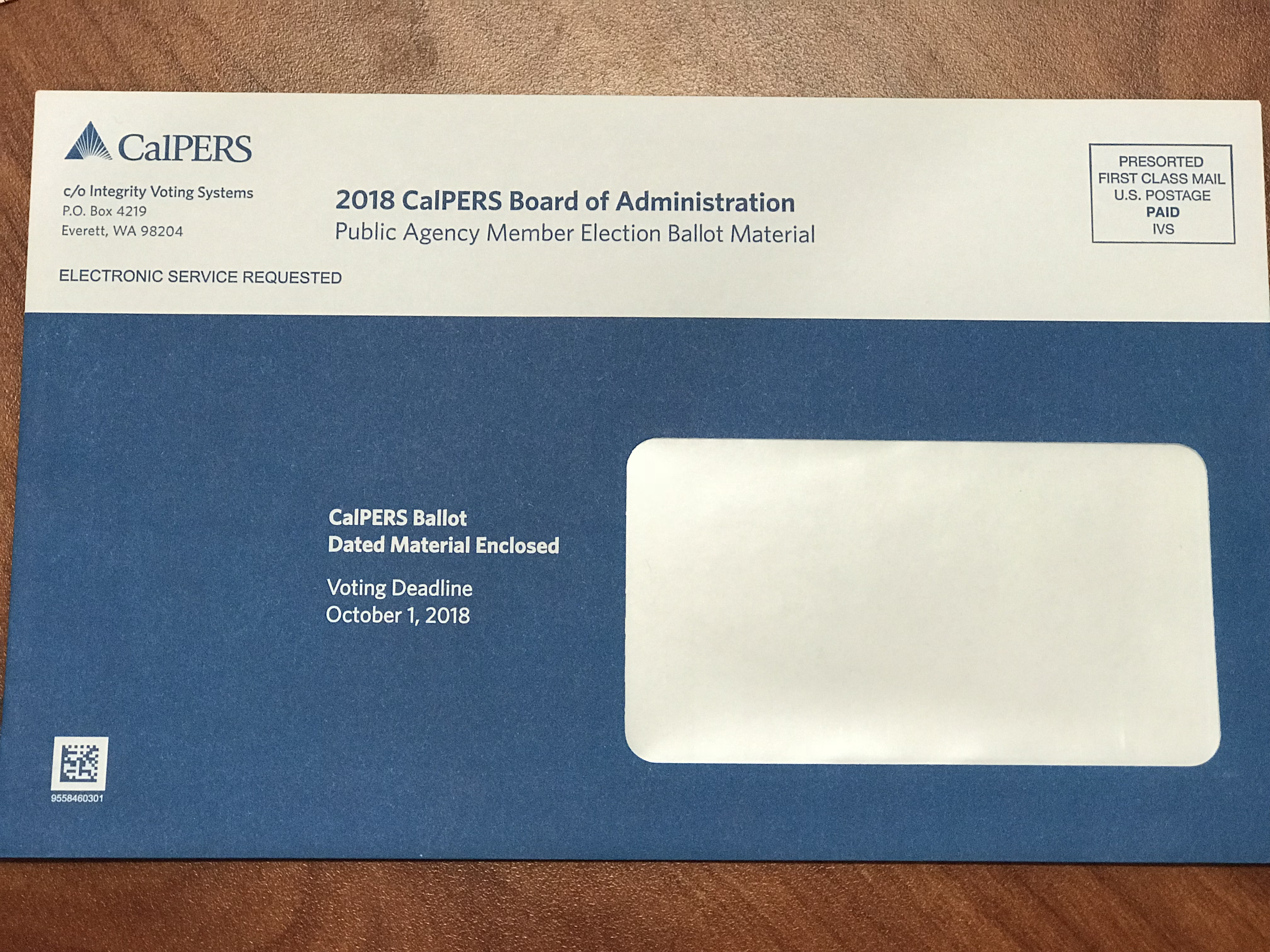 Voter Eligibility
To be eligible to vote, you must be a member of CalPERS, employed by a public agency, and active as of July 1, 2018.
Votes Received
The number of votes received will be updated on a weekly basis throughout the voting period.
Ballot Count

| As of | Online | By Phone | By Mail | Total |
| --- | --- | --- | --- | --- |
| Total | 3,932 | 533 | 8,336 | 12,801 |
| September 7 | 1,691 | 247 | 23 | 1,961 |
| September 14 | 1,448 | 190 | 6,074 | 7,712 |
| September 21 | 793 | 96 | 2,239 | 3,128 |
| September 28 | | | | |
Vote by October 1
A ballot package was mailed to active CalPERS public agency members on August 31, 2018. Your ballot must be received by mail, telephone, or online by 11:59 p.m. (PT) on October 1, or it will not be counted.
The ballot package will include your official ballot, a return envelope if you choose to vote by mail, your unique PIN if you choose to vote online or by phone, and a candidate statement booklet.
There are three ways to cast your ballot:
Go to www.calpersboardelections.com and follow the instructions on the screen.
You will need your Personal Identification Number (PIN), which can be found on the ballot card included in the ballot package.
Call (800) 270-7146 and follow the automated voice instructions.
You will need your Personal Identification Number (PIN), which can be found on the ballot card included in the ballot package.
Follow the instructions in the candidate statement booklet and complete the ballot that was included in your ballot package.
If you spoil or lose your official ballot or ballot return envelope, you may request a replacement ballot package from the CalPERS Board Election Call Center at (888) 492-4763.
Do not request a replacement ballot if you have already mailed your official ballot to CalPERS or voted online or by phone.
Candidate Statements
View the candidate statements and addendums for the 2018 Public Agency Member election.
Candidate Forum September 5
The League of Women Voters of Sacramento County sponsored a CalPERS Candidate Forum on Tuesday, September 5, 2018, from 6:00 p.m. to 7:00 p.m. in the CalPERS Auditorium, Lincoln Plaza North, 400 P Street, Sacramento, California. If you weren't able to attend or view the live webcast, you can view a recording of the event below.
Below are the candidates as of May 17, 2018:
Public Agency Member
Jason Perez
Address

1031 West Sixth St.
Corona, CA 92882

Phone:

(951) 371-8089

Email:
Priya Mathur
Phone:

(510) 858-4435

Email:

Website:
NOTE: This is the list of candidates running in the election as they will appear on the ballot.
Notice of Election
A Notice of Election dated March 26, 2018, provides information on becoming a candidate, voter eligibility, and the election schedule.
Employer Toolkit
Spread the word about the upcoming election. Find promotional material, email templates, and other resources in our Board Election Employer Toolkit.
Election Process
Last year, the board election process included additional voting methods for the first time. The three voting methods and processes now used — paper ballot, online, and phone — are legal and adhere to all applicable state laws and regulations. Read some key facts (PDF).
Contact Us
If you have questions about the board election process or need further assistance, email the CalPERS Board Election Office or call (800) 794-2297.
Upcoming Elections

| Year | Election |
| --- | --- |
| 2019 | Retired Member |