CalPERS Issues New Report on the Long-Term Future of the Fund
April 10, 2018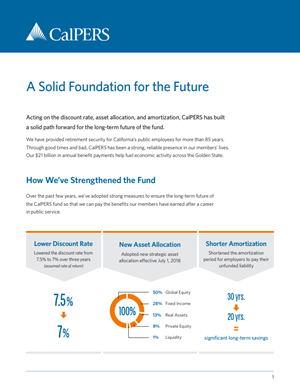 CalPERS issued a new report, A Solid Foundation for the Future, that highlights key decisions and actions that have recently been taken to ensure the long-term sustainability of the pension fund.
These actions to lower the discount rate, adopt a new asset allocation, and shorten the amortization period are all positive financial moves for the fund.
The report also outlines the financial health of the fund, including investment returns, improved funded status, and cost-savings.
View and share the report today.