New CalPERS Report Charts Progress Toward Pension and Health Benefit Sustainability
August 6, 2014
External Affairs Branch
(916) 795-3991
Robert Udall Glazier, Deputy Executive Officer
Brad Pacheco, Chief, Office of Public Affairs
newsroom@calpers.ca.gov
SACRAMENTO, CA - The California Public Employees' Retirement System (CalPERS) today released a report highlighting the Pension Fund's achievements and milestones toward its goals to improve long-term pension and health benefit sustainability, organizational strength, and policy development at the state and national level. It's the second annual report for CalPERS chronicling its work in its five-year Strategic Plan.
Progress outlined in the report includes:
A preliminary 18.4 percent net return on investments, exceeding its assumed actuarial rate of 7.5 percent
A 3 percent reduction in health care premium rates for the majority of CalPERS members
A reduction in average customer call wait times to 90 seconds
An increase in funded status to an estimated 76 percent
The implementation of a multi-year workforce plan to help CalPERS recruit, retain, and develop a broad range of talent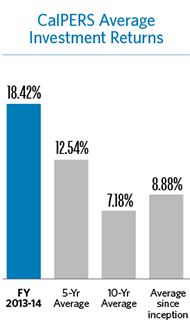 In addition, the report outlines the research and reports CalPERS has released in the last year, including the role the Pension Fund plays in the California economy through the payment of pensions and investments.
Read the report (PDF).
###