Exploring a New Private Equity Model
For more than a year, CalPERS has undergone thoughtful research and analysis of new approaches to the private equity portfolio. Private equity has been CalPERS' highest returning asset class over the past 20 years, including a 16.1 percent return in fiscal year 2017-18.
We believe we can increase returns even more by implementing innovative approaches to this important asset class.
Why a New Approach?
Higher Returns
A direct model allows CalPERS to better source and take advantage of investment opportunities in private equity.
Increase Private Equity Share of the Portfolio
As the Fund grows, this model helps CalPERS maintain the target of investing about 10 percent of the total portfolio in private equity.
Address Costs
Over time, the new model enables CalPERS to move away from asset-based fees and keep more money in the Fund.
---
55 cents of every dollar paid to CalPERS retirees comes from investment earnings, making investments a foundation of the Fund's strength.
Increasing Returns for the Best-Performing Asset Class
While our private equity investments have performed well, the competition to find and fund high-quality investments is fierce.
The number of publicly listed companies has declined by 50 percent over the past 20 years, while the number of investors seeking private equity deals has rapidly grown.
In order for our private equity asset class to help drive returns, we need to explore new forward-thinking approaches.
Private equity is 8 percent of our investment portfolio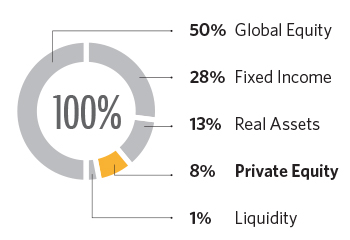 ---
For over 20 years, private equity has produced the highest fiscal year returns among all the asset classes in our portfolio: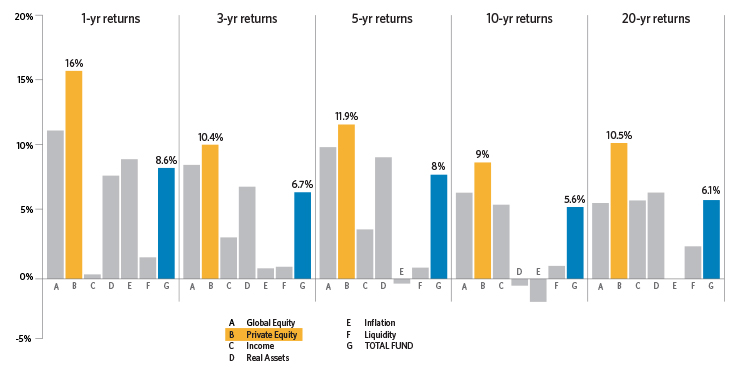 What the Models Look Like
The proposed private equity model includes four approaches. This is different from CalPERS' current approach to private equity, which places money with external private equity managers who invest on our behalf.
While the current model has served us well and delivered an average of 10.5 percent over the past 20 years, this new approach will allow CalPERS to stay competitive with other global investors.
Two of these models, CalPERS Direct: Innovation and CalPERS Direct: Horizon, will allow our Fund to directly invest in private companies.
---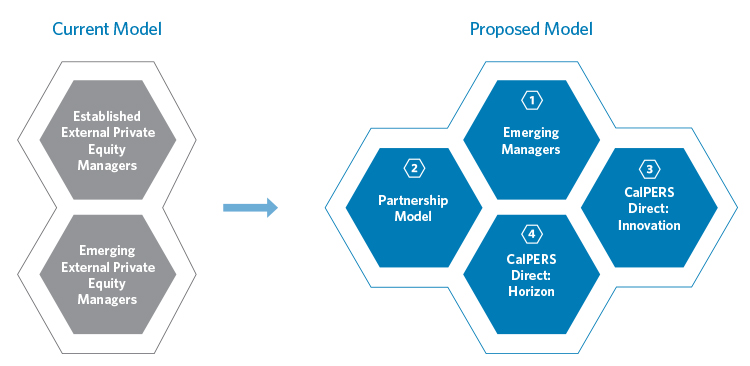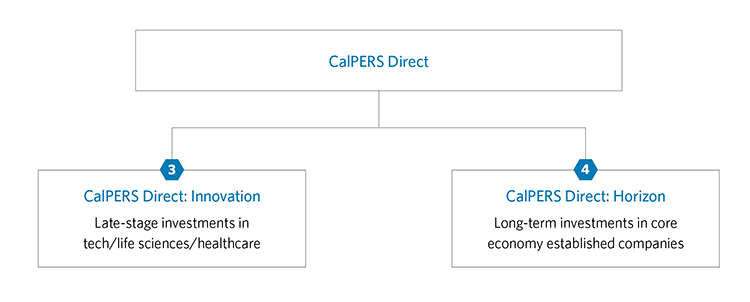 ---
The Path Forward
We've listened to our stakeholders and they want a healthier funded status and strong returns. Private equity is a critical key to growing the CalPERS Fund over decades.
At the CalPERS Board's direction, the CalPERS Investment Office will continue to explore how these new private equity models can help us achieve those goals. The Board is scheduled to make a decision by year's end on whether to move forward with this new approach.