2022 Special Retired Member Runoff Election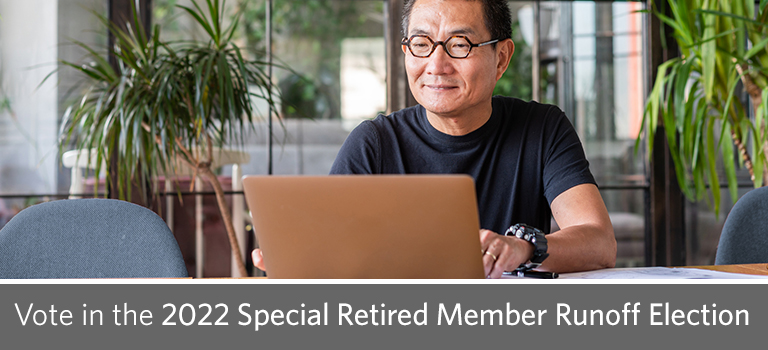 A runoff election is being held for the CalPERS Board's retiree seat.
Voting for the 2022 Special Retired Member Election ended September 26, 2022, with 110,560 votes cast.
Yvonne Walker received 54,865 votes, or 49.81%, Randall Cheek received 28,445 votes, or 25.83%, and Tim Behrens received 26,830 votes, or 24.36%.
Since no candidate received a majority of the votes cast in the primary election, a runoff election is being held between Walker and Cheek – the top two candidates who received the most votes.
CalPERS members (excluding survivors and beneficiaries) retired as of October 1, 2022 are eligible to vote in the runoff election. Runoff ballot packages will be mailed on November 4, 2022, and the voting period takes place November 4 to December 5.
All runoff votes must be received by mail, telephone, or online by 11:59 p.m. PT on December 5, 2022, in order to be counted. Only the first vote received will be counted. The term of office for this position begins immediately upon certification by the Secretary of State and expires on January 15, 2028.
Contact Us
If you have questions about the board election process or need further assistance, email Board_Election_Coordinator@calpers.ca.gov or call (800) 794-2297.